Virtual Creativity Salon
Friday, June 3, 2022
What is the Creativity Salon?
The Creativity Salon is a virtual event that highlights the work of researchers, scholars, professionals, and students in the areas of Aesthetics, Creativity, and the Arts. Sessions include presentations from researchers and students, a panel discussion, and a virtual lab tour.
The event is co-sponsored by Drexel University's Creative Interdisciplinary Research in Graduate Education (CIRGE) Program and the American Psychological Association's (APA) Division 10: Society for the Psychology of Aesthetics, Creativity, and the Arts.
The Creativity Salon is free and open to the public, but registration is required in order to receive the Zoom link. Click here to register.
Click here to see information about our student presenters and download their posters!
Schedule
9:00 – 9:10: Introduction and welcome
9:15 – 9:55: Guest Speaker Presentation: Youngmoo Kim
10:00 – 10:40: Guest Speaker Presentation: Roni Reiter-Palmon
10:45 – 11:25: Guest Speaker Presentation : John Kounois
11:30 – 12:00: Guest Panel: Applying Creativity Research Beyond Academia
12:00 – 1:00 pm: Break
1:00-2:00: Student presentations "Power Hour"
2:05 – 2:45: Guest Speaker Presentation: Magdalena Grohman
2:55 – 3:10: Presentation – The Translational Center for Creativity and Motivation, Fredricka Reisman
3:15 – 3:45: Virtual Tour: RIDDLE Labs with Dr. Camillia Matuk
3:45 – 4:00: Concluding remarks and networking opportunity
Are you a student interested in presenting some of your work at the Creativity Salon? See our call for student presenters.
Guest Speakers
We are excited to announce our special guest speakers: Drs. Magdalena Grohman, Youngmoo Kim, John Kounois, and Roni Reiter-Palmon.
Magdalena Grohman
Magdalena Grohman, Ph.D. is an associate director at the Center for Values in Medicine, Science and Technology, UT Dallas. Her research, publications, and educational interests focus on creative thinking and creative problem solving, pedagogy of creativity, and engineering ethics education.
She is an active member of APA Division 10: Society for the Psychology of Aesthetics, Creativity, and the Arts as Membership Committee Chair (2015-2018), member of DEI Task Force, and Member at Large. Dr. Grohman has significant experience in mixed methods and in studies employing cognitive ethnography as main methodology. She was Co-PI on the NSF funded study, "Engineering Ethics as an Expert Guided and Socially Situated Activity," for which she contributed to quantitative and qualitative research design and data analysis. She currently serves as Co-PI on the NSF funded study, "The Formation of Engineers in the Research Lab: A Cognitive Ethnographic Study." Grohman received her Ph.D. in psychology from Jagiellonian University in Krakow, Poland.
Youngmoo Kim
Youngmoo Kim is Director of the ExCITe Center at Drexel University, an institute at for transdisciplinary collaboration, and Professor of Electrical & Computer Engineering. His research group, the Music & Entertainment Technology Laboratory (MET-lab), pursues AI for music, human-machine interfaces and robotics for expressive interaction, and STEAM education. He has served as Resident
Technologist for Opera Philadelphia and is an advisor for the Philadelphia Museum of Art.
He served on the National Academies report committee for "Branches from the Same Tree" on the integration of the Humanities & Arts with Sciences, Engineering, and Medicine in Higher Education, and recently co-edited a special issue of Proceedings of the National Academy of Sciences focusing on creativity and collaboration. HIs 2019 TEDxPhiladelphia talk addressed the persistent digital divide and the lack of equity & inclusion in tech, and he co-authored "Making Culture", a national study of education makerspaces. He received Drexel's 2012 Christian R. and Mary F. Lindback Award for Distinguished Teaching and is a member of the Apple Distinguished Educator class of 2013. His research has been supported by the National Science Foundation, the John S. and James L. Knight Foundation, and the NAMM Foundation, among others.
Youngmoo received his Ph.D. from the MIT Media Lab and holds Master's degrees in Electrical Engineering and Music (Vocal Performance Practice) from Stanford University as well as Engineering and Music degrees from Swarthmore College. He has extensive experience in music performance, including 8 years as a member of the Tanglewood Festival Chorus, and currently sings with The Tonics, an a cappella ensemble in Philadelphia. In response to the coronavirus pandemic, he developed Virtual Chorister, a smartphone app for remote music collaboration, and launched "Creating at a Distance", a newsletter highlighting creative & collaborative work in the era of social distancing.
John Kounois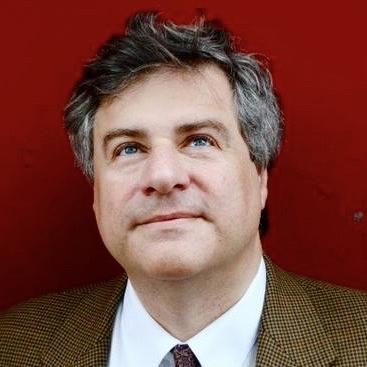 Dr. John Kounios is a Professor of Psychology at the Doctoral Program in Applied Cognitive and Brain Sciences at Drexel University, where is also the Principal Investigator at the Creativity Research Lab. He has held research and faculty positions at Princeton University,
Tufts University, the Boston Veterans Affairs Medical Center, the University of Pennsylvania, and Drexel University. He has published research on a variety of topics in cognitive psychology and cognitive neuroscience, including knowledge representation, insight in problem solving, creativity, and episodic memory.
Kounios' research focuses on the neural and cognitive bases of semantic information processing, problem solving, and creativity. You can read Kounios' research in his the book The Eureka Factor: Aha Moments, Creative Insight, and the Brain. His research has been funded by grants from the National Institute of Mental Health, the National Institute of Deafness and Other Communication Disorders, and the National Institute of Aging. His research has been reported by the New Yorker, The Wall Street Journal, National Public Radio, U.S. News & World Report, Scientific American, The Times (London) and other print and electronic media.
Roni Reiter-Palmon
Dr. Roni Reiter-Palmon is a Distinguished Professor of Industrial/Organizational (I/O) Psychology and the Director of the I/O Psychology Graduate Program at the University of Nebraska at Omaha (UNO). She is also the Director of Innovation for the Center for Collaboration Science, an inter-disciplinary program at UNO. She received her Ph.D. in I/O Psychology from George Mason University, Fairfax, Virginia. Her research focuses on
creativity and innovation in the workplace, specifically cognitive processes, team creativity, development of teamwork and creative problem-solving skills, and leading creative individuals and teams. Her research has been published in leading journals such as Journal of Applied Psychology, Creativity Research Journal, The Psychology of Aesthetics, Creativity and the Arts, Human Resources Management Review, and Leadership Quarterly. She is the former Editor of The Psychology of Creativity, Aesthetics and the Arts, the leading journal of creativity research. She is an associate editor for the European Journal of Work and Organizational Psychology.She serves on the editorial boards of Journal of Organizational Behavior, The Leadership Quarterly, Journal of Business and Psychology, Journal of Occupational and Organizational Psychology, Journal of Creative Behavior, Journal of Business and Psychology. She has published four edited books on the topic of creativity, and is the co-editor of the 2nd edition of the Handbook of Organizational Creativity (to be published in 2023). She has obtained over 8 million dollars in grant and contract funding from government and businesses focusing on creativity, leadership, and teams. She has received the University of Nebraska systems award for her research and scholarship, and been recognized by the American Psychological Association APA fellow (Divisions 10 and 14).
Virtual Lab Tour at RIDDLE with Camillia Matuk
(ijCSCL), and a member of the Education Committee for the International Society for the Learning Sciences. She is also co-chair of the C2 ICCE Computer-Supported Collaborative Learning (CSCL) and Learning Sciences, a sub-conference of the International Conference for Computers in Education, of the Asia-Pacific Society for Computers in Education (APSCE).
Currently, Camillia's research explores how community-engaged inquiry learning experiences can expand the ways that learnersengage with and understand the world, and empower them to address issues that matter to them. She is especially interested in how these learning experiences can be enriched with technology, storytelling, and the arts, and in how they can be made achievable in school contexts, including middle school, high school, and university. She uses mixed methods that draw on design-based research (DBR) and design-based implementation research (DBIR), and that include co-designing with practitioners, pre/post assessment designs, quasi-experiments, participant interviews, learner-generated artifact analyses, and case studies.
Camillia's projects are funded by the National Science Foundation, and have been presented at conferences of the International Society for the Learning Sciences (ICLS), the Annual Meeting of the American Association for Educational Research (AERA), and at other conferences in psychology, visualization, games, and the cognitive sciences. Her work has been recognized with a 2013 Outstanding Research Presentation Award from the AERA Design & Technology SIG; a 2015 Best Design Paper Award, and a 2019 Best Paper nomination, both from the International Conference for Computer-Supported Collaborative Learning (CSCL).
We look forward to seeing you there! Register here.